April is National Autism Month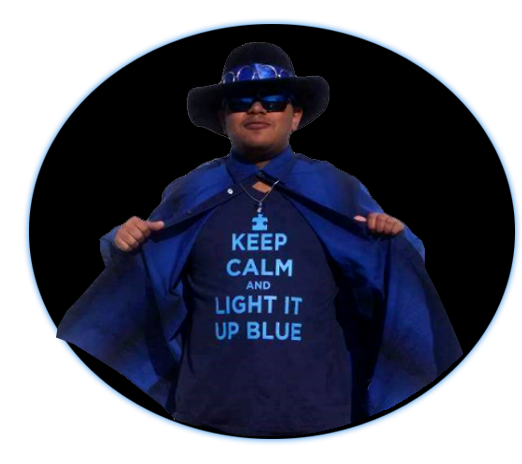 "Life is not to be viewed through the single lens of a diagnosis but to be lived through the Spectrum of potential, promise and purpose."

A Spectrum of Blues, Rock, R&B, Soul, Pop, and Jazz
OUR STORY
It was always Zayne Harshaw's dream to have a band. He was diagnosed with autism at the age of four. When he was 14-years old, this self-taught guitarist would walk up to total strangers and ask them to be a member of his (at the time) non-existent band. At age 17, Zayne's dream would become a reality on a snowy Saturday afternoon on January 19, 2013.
A Special Olympics teammate of many years joined as a rhythm guitarist. The autistic teen social group, Aspirations, which is held at the Nisonger Center at OSU, was where he met a bassist. The autistic teen social group held at Children's Hospital would add a drummer. This foursome came together under the name of "Spectrum".
The band name would eventually be changed to "Blue Spectrum" due to the "Spectrum" name itself being so prevalent and "Blue" being Zayne's favorite color. The new name also brought new dimensions. Clarence Bowles would become the new drummer and most importantly, a mentor to help guide the band's direction. A local blues jam introduced keyboardist, Amelia Rose, to the band. And the smooth vocalist, "Uncle Al" Jefferson, took over at bass. But even with the changes, the message remained the same.
Together they share a deep love of creating and performing music and living the impassioned motto of Blue Spectrum: "Life is not to be viewed through the single lens of a diagnosis but to be lived through the Spectrum of potential, promise and purpose".
Thursday, April 4, 2019 5 PM – 9 PM
Blue Spectrum plays OSU's The Big Dish
Greater Columbus Convention Center
400 N High St, Columbus, Ohio 43215
Connecting Columbus through art and diversity, registration required.
Saturday, April 6, 5 PM – 10 PM
Blue Spectrum returns back to Erie County
Ten Fifty Eight
1058 Cleveland Road, Sandusky, Ohio 44870
Support the Self-Advocates of Erie County with an amazing night of dancing and live music of Blue Spectrum!!
Friday, April 12, 2019 at 7 PM – 10 PM
Zayne Harshaw of Blue Spectrum plays the Diva Den
The Diva Den of Columbus, OH
881 Mt Vernon Ave, Columbus, Ohio 43203
Zayne Harshaw of Blue Spectrum brings his scorching guitar to The Diva Den.
Saturday, April 13, 2019 at 1:30 PM – 5:30 PM
Private Function
Friday, April 19, 2019 at 10 PM – 1 AM
Zayne of Blue Spectrum returns to Somerset
Wannabes Bar and Grill
109 Public Sq, Somerset, Ohio 43783
Zayne brings his scorching guitar back to Wannabees. Always a great time!!!

Friday, April 26, 2019 at 6 PM – 9 PM
Blue Spectrum plays Westerville Fourth Friday
Uptown Westerville, Ohio 43081

Central Ohio's largest festival series is back for a new season of live entertainment, food trucks, shopping and fun activities for the whole family on the streets and in the shops of Uptown Westerville! This month, we kick off our six-month run with a celebration of the arts and how creative expression shapes our world.
This event is organized by the Westerville Visitors & Convention Bureau with contributions and cooperation from Mount Carmel St. Ann's Hospital, The City of Westerville and The Arts Council of Westerville.
Saturday, April 27, 2019 at 7:30 PM – 11:30 PM
Blue Spectrum plays Johnstown at the Hillcrest Golf Course
Hillcrest Golf Course Bar and Restaurant
8866 Sportsman Club Rd, Johnstown, Ohio 43031