Dating on the spectrum
When a child with autism wants to date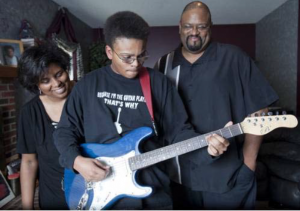 Zayne Harshaw is like any other 16-year-old boy. He's a sophomore in high school, at Oakstone Academy in Westerville. He loves classic rock and learned to play songs by Def Leppard and Boston on his guitar. After all, ladies dig an axe man. But when Zayne approached his parents, Gwen and Gene Harshaw, about going on a date with a girl from his class, they were caught off guard.
Zayne and his girlfriend were pressuring for a date, but we didn't jump on it right away," Mrs. Harshaw said. "We had a fear of the unknown."
Zayne has autism. A child's first date can make any parent's palms sweaty, but guiding a child with autism through the wavy waters of romantic relationships presents its own challenges. But, as with any relationship, experts say communication is key.
"When you start talking about dating and having intimate relationships, we tend to want to talk around it and allude to things, but you can't do that necessarily with individuals on the spectrum because we don't even know if they're going to understand," said Chris Filler, program director of Lifespan Transitions Center of the Ohio Center for Autism and Low Incidence (OCALI).
Talking about what to do and what not to do on a date is a good place to start, Filler said, because it helps parents understand what their child already knows about dating.
Zayne's girlfriend is also on the spectrum, so Mrs. Harshaw called her mother and the families worked together to plan the date.
"You're like a cruise director," Mr. Harshaw said. "We tried to take out as many of the potential surprises as possible. You have to be humble enough to be honest about what can happen."
The pair went to Easton, somewhere they felt comfortable and where the mothers could be close by but unobtrusive.
"Going on a date alone is probably not the best place to start," said Donna Owens, program director of OCALI's Family Center.
The couple ate dinner, went to a movie ("The Lorax," picked because it wouldn't be too visually or emotionally overwhelming) and then got dessert at Max & Erma's. The Harshaws coached Zayne on everything from making change and finding a first-date gift to dressing well but not too well: Zayne was ready to break out the tux.
Don't be afraid, either, to broach the topic of getting physical, say the experts. "The more uncomfortable it is to discuss, the more important it is to discuss," said Brenda Smith Myles, a senior fellow at OCALI.
Any awkward or confusing moments were worth it.
"Zayne's brother joined the Army after graduation," Mrs. Harshaw said. "We didn't see dating coming this soon, but I'm so grateful. After his brother left, it was hard on Zayne. But this, this has been something really wonderful for him."