Playing blues guitar onstage transforms life of young man with autism
June 16, 2016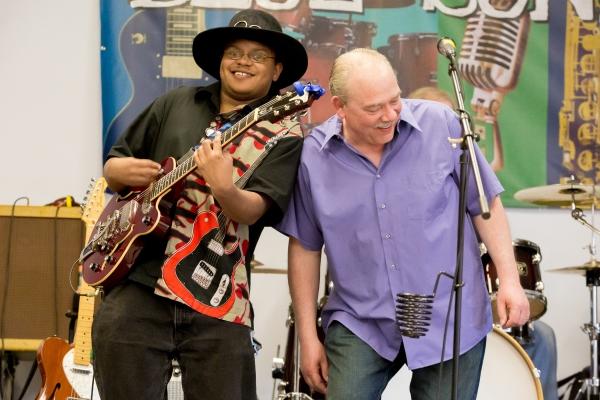 Zayne Harshaw's musical inspiration often comes in the middle of the night, which used to annoy his parents.
However, Gene and Gwen Harshaw have learned to sleep through most of their son's guitar riffs. They even encourage the early-morning jam sessions.
"You know what? It's what he likes to do," Gwen Harshaw said.
The Gahanna couple can thank the instrument and music — mainly, the blues — for bringing Zayne out of his shell, giving him confidence to succeed in school and adding a richness to his life that they never thought possible when he received a diagnosis of autism at age 4.
And a large group of musicians have become part of their "parenting" village, to whom they're indebted for fostering Zayne's musical talents.
"It's transformed him into a different person," Gwen Harshaw said. "I have to pinch myself when I see him onstage."
This weekend, Zayne will perform with some of his mentors at the Creekside Blues & Jazz Festival in Gahanna; it begins on Friday — Zayne's 21st birthday — and ends on Sunday.
The annual event draws about 35,000 people to hear more than 90 hours of jazz and blues on five stages.
Zayne Harshaw will perform three times: on Saturday with Dock Adams & Blues Hammer and with the Will Freed Trio, and on Sunday with Sean Carney.
Performing used to be "nerve-racking" for him, he said, but he has found his stride in front of an audience.
"Now, I want everyone paying attention to me," said the 2014 graduate of Oakstone Academy. "I love it when they go crazy, too — I want to blow them away.
"This gives me the power to show off, show them what I've got."
At the time of diagnosis, doctors didn't give his parents much hope that he'd be able to show off anything. Gene Harshaw said he and his wife went through a grieving process for all the things they felt their younger son might never do.
They focused on finding the best medical care, but he added, with regret, that they found it difficult to set aside time to nurture his personality and passions.
That changed when Zayne asked for a guitar when he was 12; he became interested in the instrument through the video game "Guitar Hero."
His parents thought it might be a phase, but Zayne delved into music. He formed a band called Blue Spectrum with other young people with autism.
In 2014, Zayne's life changed when he attended CAMP Blues with the Jazz Arts Group. He gained a new appreciation for the blues and met the musicians who would become his mentors.
Now, he attends weekly jam sessions, performs at venues around Ohio and was selected to perform at the International Blues Challenge in Memphis.
"He was pushing us to let us know: 'I've got something,'" Gene Hawshaw said. "Sometimes you get so caught up with a diagnosis — the labels, the constraints — that we forget about his personhood."
Gahanna musician Will Freed had never met Zayne before agreeing to play with him at Creekside; after hearing the young man play, he's thrilled by the opportunity.
"Zayne hits very few wrong notes, and he hasn't been playing very long," Freed said.
"If you haven't seen him play, I want to be there the first time you do. He's incredible."
NBC 4